After weeks of experimentation and failure, I am glad to introduce you to "The Anaglyph Project", a selection of pictures designed to be seen in 3-D. This technique, old enough to be known, was created in 1853, consisted of an effect achieved by means of encoding each eye's image using filters of different colors, in order to create the illusion of a relief image. I thought it would be interesting to mix something old with something new to try to push further what is possible with toyphotography. As a kid, I remember those old magazines from the 90's, especially a collection of dinosaurs I liked a lot. Although there is nothing magical in it, it's just science, this technique has always fascinated me.
It happens that some of you asked me if I could make prints of some pictures, it's not discontinued, but I thought it will be more interesting to propose something a bit different. This project includes a serie of 3-D pictures previously seen in 2-D on my Instagram. This first package contains 10 cards in A5 format, an unpublished cover and 9 pictures already seen but now in 3-D. Each package will include a pair of red/blue 3-D glasses, and will be priced $20 for people outside the European Zone or 15€ for people inside the Euro zone (shipping price included for both). If the first serie is a success, a new package will be available every 4 months. The long-term goal is to offer only unpublished images. Pre-orders start today and ends on march, 31th and are expected to ship in April. Send me a message on Instagram or Facebook to be on the pre-order list.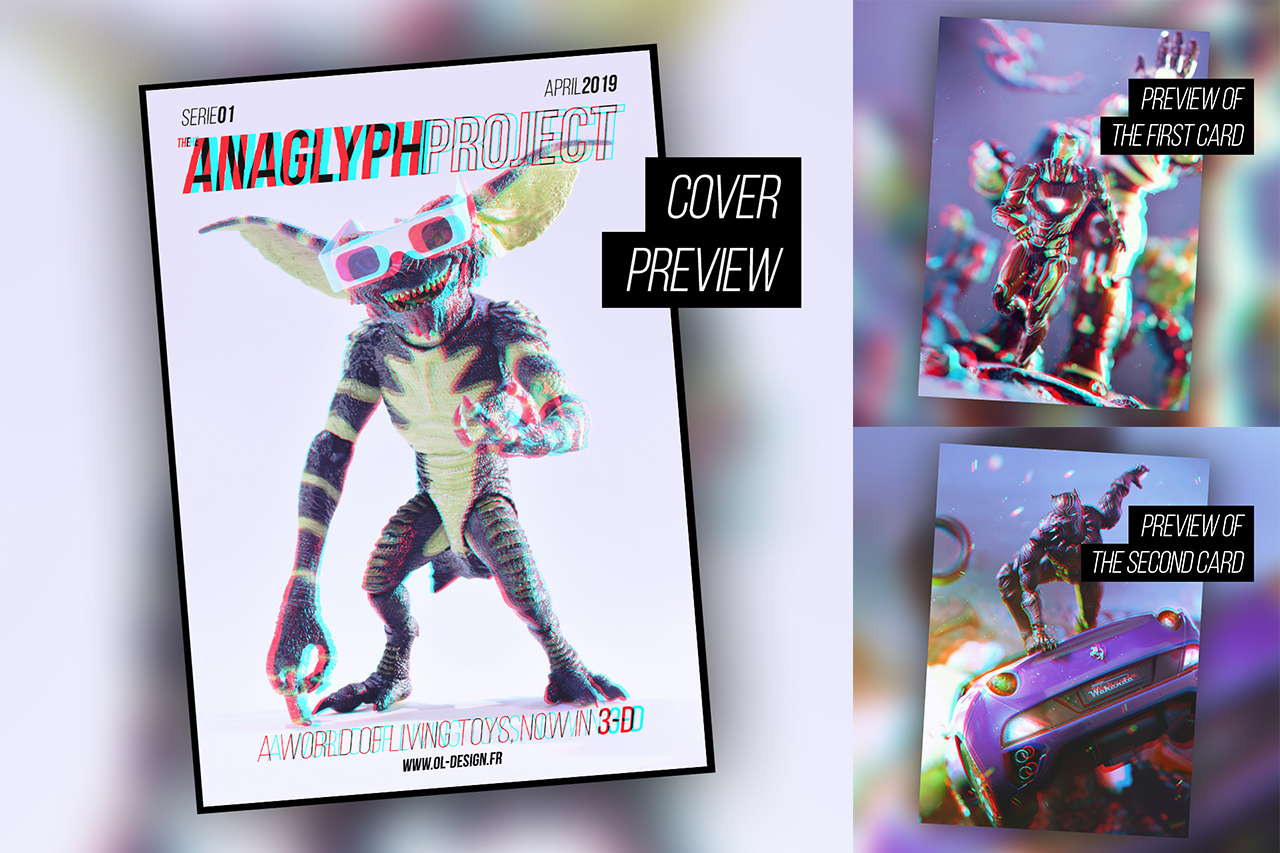 Après plusieurs semaines d'expérimentation et d'échec, je suis ravi de vous présenter "The Anaglyph Project", une sélection de photos conçues pour être vu en relief. Ce procédé inventé en 1853 est assez vieux pour être connu et je trouvais cela intéressant de lui apporté un petit coup de jeune en le transposant à la toyphotography. Le procédé est le même qu'à l'époque, la juxtaposition de deux images identiques mais avec un angle de vue légèrement différent afin de recréer ce que l'on voit à la fois avec l'œil droit et l'œil gauche. Quand j'étais plus jeune j'adorais collectionné des magazines où il y avait ce genre d'images mais je garde surtout en mémoire une série de photographies de dinosaures que j'affectionnais particulièrement. Bien qu'il n'y ait rien de magique là-dedans, juste de la science, cela m'a toujours fasciné.
On m'a demandé à plusieurs reprises s'il était possible d'acheter certaines photos, c'est toujours à l'étude, mais je trouvais plus intéressant de proposer quelque chose de plus ou moins différent. Ce projet regroupe une série de photographies en relief publiées initialement sur Instagram en 2D. Le premier bundle est composé de 10 cartes au format A5, une couverture avec une image inédite en 3D et 9 photos initialement publiées en 2D. Chaque bundle est accompagné d'une paire de lunettes 3D rouge/bleu et coûte 20$ hors zone Euro ou 15€ dans la zone Euro (frais de livraison inclus dans les deux cas). Si cette première série fonctionne, un nouveau bundle sera proposé tous les 4 mois. Le but a long terme étant de ne proposer que des images inédites.
Les précommandes commencent aujourd'hui et durent jusqu'au 31 mars avec une livraison prévu pour avril. Si vous souhaitez réserver, rien de plus simple, il suffit de m'envoyer un message via Instagram ou Facebook.